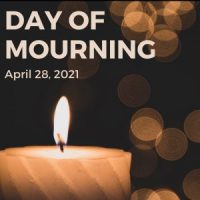 The national Day of Mourning is observed annually on April 28 to remember those workers who have lost their lives or been affected by workplace disabilities or disease. Together, we also use this day to acknowledge and show support for the countless families and friends whose lives have been impacted by these workplace tragedies. The International Labour Organization (ILO) reports that 2.3 million workers die annually from occupational accidents around the world, which relates to 6,000 workplace deaths per day. A further 500 million workers each year are injured in occupational accidents or are victims of work-related illnesses.
In Canada, 30 years have now passed since the official Day of Mourning was first established on April 28, 1991. Despite three decades of increased awareness, the latest statistics tell a sobering story; workplaces in Canada are not getting any safer. Data from the Association of Worker's Compensation Boards (AWCBC) shows that the number of Canadian workplace fatalities remains consistent – with close to 1,000 workers being killed at work each year. The Day of Mourning on April 28, 2021 serves as a reminder that we must strengthen our resolve to create safer and healthier workplaces to reduce these preventable deaths in future.
As we pay our respects and honour those who were killed in their line of work, we must also consider those who have suffered illness and injury – many of whom are now facing an uncertain future plagued by ongoing health issues and employment challenges.  For every industrial fatality, we can expect about 25 permanent long-term mental or physical health impairments, with these individuals and their families often enduring years of financial hardship and accessibility barriers in addition to the burden of managing their health concerns.
Over the past year, the global pandemic has taken an extreme toll on workplace health and safety. Employers were required to quickly re-imagine their operations to try and protect their workers, but tragically, cases of COVID-19 spreading through worksites were reported across the country; with workers exposed to health risks when supporting essential goods and services and others not speaking out through fear of losing their jobs. The long-term symptoms of contracting COVID-19 continue to impact those who are reported as recovering from the virus, and this has not been the only risk associated with the pandemic; improperly adapted work environments and the extreme mental health impacts of isolation, worry and disruption have also added countless additional instances of illness and injuries to our workforce over the past year. These cases are expected to increase with the pandemic continuing to impact our lives well into the future.
Recent studies show that workers who are dealing with injury and illness, including those resulting from workplace incidents, become extremely vulnerable to losing their jobs and subsequently facing extraordinary barriers to re-entering the workplace. Persons with disabilities continue to experience a disproportionately higher than average level of poverty with data showing that both public and private employers do not consistently hire and retain workers who acquire a mental or physical health impairment.
We must use the Day of Mourning to remember those who tragically lost their lives, to re-commit to establishing safe and healthy work environments, and to demand proper support and workplace accommodations for the increasing number of individuals dealing with illness or injury.
Sources: