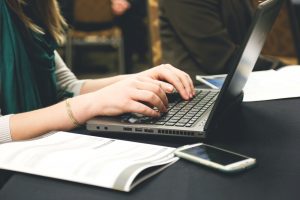 Flexibile      –       Collaborative    –      Interactive 
 MODERN APPROACH
Our small online class sizes are instructor led, which means you can engage directly with faculty. As experts in the field, our faculty are passionate about teaching and student success. Our programs and courses are created with input from industry leaders, so you can be confident you will have the right blend of skills and knowledge employers seek. You can tap into a network of professionals in disability management and return to work through our affiliation with the Canadian Society of Professionals in Disability Management (CSPDM).
Learning online at PCU-WHS allows you to benefit from:
• 24 hour course access
• Greater flexibility in managing your time
• Additional time to reflect before responding to discussions and other activities
• An environment where the independent learner flourishes
"The applied bachelor qualification offered by PCU-WHS is the first of its kind nationally and internationally," says Wolfgang Zimmermann, President of PCU-WHS. "It focuses on the core competencies required to help workplaces develop a culture of accommodation and successfully maintain employment for workers who acquire a mental or physical health impairment.
For futher details on online programs offered at PCU-WHS see below