Exciting Career Opportunities in Disability Management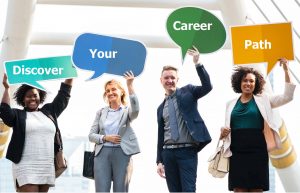 "In disability management, I found my true passion, helping people overcome obstacles and maximize their potential."
– Comment from student
Career Opportunities
There is currently a shortage of qualified, competent and certified disability management practitioners. Workplaces are focusing on better return to work outcomes for employees. Positions in disability management programs are expanding rapidly in North America, Europe, and elsewhere as employers realize the benefits of a professionally developed workplace-based program.
Prospective places of employment include:
• Employers
• Unions
• Government
• Workers compensation boards
• Insurance companies
• Disability Management service providers
Employees responsible for disability management may also have other responsibilities such as:
• Human Resources
• Health & Safety
• Health & Wellness Promotion
• Employee Benefits
As disability management principles are embraced by small and medium-sized firms, there is an opportunity for experienced professionals to establish their own businesses, offering disability management contract services to local employers.
Advance Your Career
Prospective students or professionals already working in the field may be interested in our programs to take your education to the next level. You will have the opportunity to:
• Gain an academic understanding of disability management
• Apply your classroom learning into your own practice
• Develop new skills
• Boost your confidence and motivation to succeed
• Expand your network of industry professionals
Start your Career
Prospective students new to the field or looking to transition from a related field may be interested in our programs to gain the skills and knowledge employers seek. With our support you will have the opportunity to:
• Make contact with industry professionals
• Gain skills that can be applied to the workplace
• Apply your classroom learning into real world practice
• Gain independence and confidence in your skills and abilities
• Create an advantage over other job applicants
Salary range for disability management professionals, at entry level may be around $55,000 but with education and certification, tend to run between about $65,000 to $100,000, with more senior levels above that.
Increasingly, job postings by employers are requiring a bachelor's degree in disability management.
A recent survey by the Canadian HR Reporter stated:
• 90% of business leaders say the value of professional designations is increasing, and
• 95% view applicants with a designation as more desirable than those without.
A virtual Career Information Session was held on October 14 with regard to Career Opportunities in the field of Disability Management and Return to Work. Please click on the following link to access the Agenda for the event – Agenda for Career Information Session
Please click on the following link to access the audio file of the session:

For more information on careers in Disability Management and Return to Work, visit:
Career Opportunities