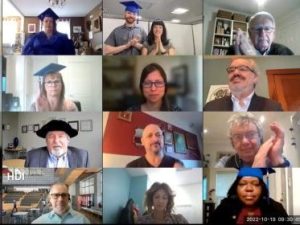 On October 19, Pacific Coast University for Workplace Health Sciences (PCU-WHS) welcomed its 2022 class of graduates, 10 new recipients who have earned a Bachelor of Disability Management (BDM) degree.
PCU-WHS― a leading edge University in education and research for excellence in the field of disability management and return to work ― held an online convocation ceremony with faculty, government officials, and graduates from various time zones, ranging from North America to Europe, Africa and Australia.
In Canada, the degree recipients are now at the vanguard helping address some of society's most complicated challenges related to accessibility and inclusion for people with physical and mental health impairments. Timing is optimal given that Under the Accessible Canada Act, the federal government is finalizing the framework to create a barrier-free Canada by 2040, including in the area of employment. Six provinces ―so far ―have also introduced Accessibility legislation.
To read the comments made by various speakers, please click on the link below to view the newsletter.
PCU-WHS Newsletter Vol 9 Issue 36 October 2022 BDM Degree Graduates Honoured
The virtual Convocation Ceremony was recorded and can be viewed by clicking on the following link: