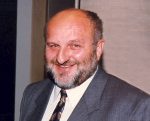 In fond memory of and tribute to our friend, Hartmut Haines, former Ministerial Director for disability issues for the German Ministry of Labour and Social Affairs who, starting in 1990 until his retirement in 2007, and informally beyond that, was a personal friend and a tremendous supporter and champion of not only better outcomes for persons with disabilities, but also for the concept of Disability Management and of the establishment of NIDMAR in 1994.
NIDMAR fondly recognized his major contribution to us and our collective vision with the presentation of an "International Contribution Award" which took place during the first International Forum on Disability Management – IFDM 2002 – presented by the Chair of NIDMAR's International Advisory Council, the Hon. David Vickers, who was then a Judge of the Supreme Court of British Columbia.
IFDM 2002 became a significant success, in part through the contributions made by many individuals from around the world, but also the collective and very personal leadership by the Hon. Claudette Bradshaw, who was Canada's Minister of Labour, and her German counterpart, Walter Riester. The great collaboration between the Ministers became a reality through the personal commitment and professional collaboration between Hartmut Haines on the German side and Warren Edmondson, who was then Assistant Deputy Minister of Labour for Claudette Bradshaw.
Hartmut Haines brought vision, leadership and practical support for our efforts in not only establishing NIDMAR, but building it into a highly collaborative employer, union, government and other relevant stakeholder governed and driven Global Center of Excellence in more effective Return to Work / Disability Management policy/program and practice outcomes, manifested itself through his direct support of many of our key initiatives spanning almost 20 years and proudly reflected on by NIDMAR's founding employer and labour co-chairs, who were joined on stage by Hartmut during the official opening ceremonies of the NIDMAR offices in 1994, presided over by the Hon. Dan Miller, then Minister of Labour and Deputy Premier, and who later became Premier of British Columbia, Canada.
"So sorry to hear of Hartmut's passing. He was a solid supporter of our initiative, always more than willing to share his views and experiences. He made himself available to contribute and help move our project forward. Great guy, we all owe a debt of gratitude."
Brian Payne, Founding Labour Co-Chair and former President of the Communications, Energy and Paperworkers Union of Canada
"Sad to hear of Hartmut's passing. When I think of Hartmut the following phrases come to mind:
1) Towering intellect
2) Soft spoken humour
3) Relentless focus and support for the betterment of life and work for people with disabilities
4) Bigger than life"
Peter Lawrie, Founding Employer Co-Chair and former Director of Industrial Relations for MacMillan Bloedel.
"His invaluable contribution to our collective efforts will always be remembered and much appreciated."
Wolfgang Zimmermann, Executive Director, NIDMAR
The following URL is a link to NIDMAR's 2002 Annual Report where the views of Hartmut Haines and his enduring vision are profiled in detail:
http://www.nidmar.ca/news/news_annual_reports/reports/NIDMAR_AR2002.pdf