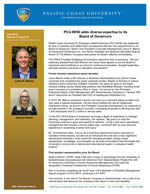 The Pacific Coast University for Workplace Health Sciences (PCU-WHS) is pleased to announce two new members to its Board of Governors.
Lance Blanco, Senior Vice President Corporate Development for Hardwoods Distribution located in Vancouver has joined the Board. After sustaining a spinal cord injury in a mountain biking accident, his role at Hardwoods was modified and he continues to be instrumental in the company's success, overseeing its growth to 66 branches with 1,300 employees and $1.2 billion in annual sales.
Shanna Ramm, CPHR, is Senior Disability and Wellness Specialist, Human Resources, with The Mosaic Company located in Regina. She is currently completing her fourth year of the Bachelor of Disability Management degree program at PCU-WHS, achieving a 4.0 GPS and is the first student representative to sit on the Board.
Wolfgang Zimmermann, President of PCU-WHS, said, "There is an increasing emphasis on better return-to-work outcomes across many public and private sector workplaces today, recognizing that more than 80 percent of all mental and physical health impairments occur during someone's working life. Our Board is committed to making return to work part of the recovery process in tandem with all other facets of the workplace health spectrum."
For further details with regard to these appointments, and ongoing initiatives of PCU-WHS, please see the attached newsletter.