JOINT INITIATIVE – VETERANS AFFAIRS AND PCU-WHS
EXPANDING CAREER OPPORTUNITIES IN DISABILITY MANAGEMENT
To view the brochure containing Career and Professional Opportunities in Disability Management, please click the link below: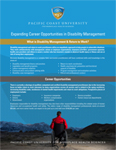 VETERANS AFFAIRS STUDENT OPPORTUNITY
A special intake for the Disability Management Practitioner Certificate Program has been established on behalf of Veterans Affairs for veterans and military members who have or are awaiting a release message and are seeking new career opportunities.
The Disability Management Practitioner Certificate Program at Pacific Coast University for Workplace Health Sciences is an online continuing education program that consists of 25 courses in topic areas that cover the competency skills as identified in the Occupational Standards for those working in the field of Disability Management and Return to Work.
Each course is led by an instructor with expertise in the topic area. Materials include manuals and readings; examples and samples of forms, reports and documentation; discussion exercises; assignments and quizzes; and in some cases other media components.
Eligibility Criteria
Applicants must have:
Completed the equivalent of secondary school
Proficiency in grammar with evidence of adequate reading and writing skills
Basic computer skills
Course Schedule and Participation Requirements
The Program will commence September 2019 and will be completed in June 2020.
Each course takes place over one week; courses will be held approximately three to four weeks consecutively followed by a one to two-week break.
Amount of time required to complete each one week course is approximately 12 hours.
Each course is scheduled to start on the Monday of course activity; students will receive access to the course materials starting on the Friday prior to the course start date to allow sufficient time to download and read the course materials prior to course commencement.
There is no set time to log into the course, so you can log in at a time that is convenient for you.
During the week, you will be expected to participate in the online discussion forum where scenarios or case studies will be presented. Students are expected to post two substantive discussion posts based on the required readings, and comment on at least two other student posts. These discussion posts are graded.
A final written assignment for each course will be due two weeks after each course start date.
In order to receive a Certificate of Completion for the Disability Management Practitioner Certificate Program, the 25-course program must be completed successfully with a passing grade of 60% or better in each course.
Courses are delivered through our online learning platform Moodle, which allows adult learners with multiple commitments to carry out most study activities at a time and place that best suits their needs.
Tuition Fees
There is no tuition cost to veterans – just a commitment to complete the one-year program. The education program will be provided in English.
Application Package
A completed application form must be submitted by August 31, 2019 by fax or email to:
Student Services
Email: education@pcu-whs.ca
Fax: 778-421-0823
General
To view the short course descriptions for the 25 topic areas covered by the Disability Management Practitioner Certificate Program, please see the website at:
https://www.pcu-whs.ca/programs/continuing-professional-education/dmpc-program/
For questions or requests for further details, please contact Student Services at:
Tel: 778-421-0821, ext. 209
Email: education@pcu-whs.ca
Web: www.pcu-whs.ca
The following document provides an overview of the hiring of veterans in the federal public service with respect to provisions of the Veterans Hiring Act including background information on priority entitlements, key information about the Veterans Hiring Act and data on appointments, and outlines Public Service Commission initiatives to support veteran hiring. To download the document, please click on the following link: Hiring Veterans in the Federal Public Service