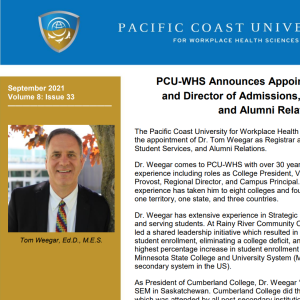 Pacific Coast University for Workplace Health Sciences is pleased to announce the appointment of Dr. Tom Weegar as Registrar and Director of Admissions, Student Services and Alumni Relations.
With the roll-out of the grant from the British Columbia government to NIDMAR, this has translated into newly available educational opportunities for both scholarships and continuing education in Disability Management to BC residents and workplaces.

Please click on the link to view the newsletter announcement which provides further details.
PCU-WHS Newsletter Vol 8 Issue 33 September 30, 2021 Announcement re Appointment of Tom Weegar